FOR A NICE FRESH DAY WASH YOUR DIRT AWAY!
Water works Car wash
Cleaning up the community, one car at a time.
ECO FRIENDLY - we recycle and reclaim our water !
24 hour RAZOR WASH at BOTH LOCATIONS!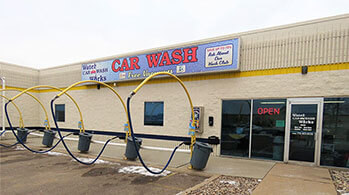 FAST AND CONVENIENT
We offer two convenient wash options, the velvet touch express tunnel and a 24hr touchless Razor wash at both locations. All designed to get your car clean, dry, and shiny in record time.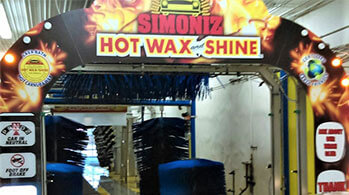 FRIENDLY AND KNOWLEDGABLE
Our service associates deliver customer service with a smile. They will help you decide on the best wash for you! Plus we PREP your car with a water wash down- making it clean everytime!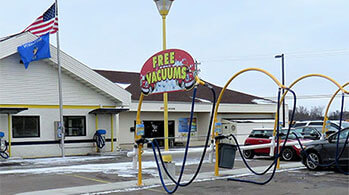 FREE VACUuMS to car wash customers
At each of our car washes we offer free self-serve vacuums to our customers - car wash customers and always free to our unlimited monthly members. If you are not washing your car there is a $3 vac fee. Make it a quick inside clean or a detailed clean – up to you.
Good

$7.00

Better

$10.00

Wash
Wax
Clear Coat
Undercarriage
Rocker Blasters
Spot Free Rinse

Best

$15.00

Wash
Wax
Clear Coat
Undercarriage
Rocker Blasters
Spot Free Rinse
Triple Foam
Premium Clear Coat
Lava Bath
Dry'N Shine
The Monthly Unlimited
Car Wash Club
Join our Monthly Unlimited Car Wash Club and SAVE! Our top three washes are now offered for the monthly car wash club. Each program pays for itself in fewer than 3 car washes per month! Wash your car just three times and SAVE big!
ONE MONTHLY affordable FIXED RATE
No tricks, no gimmicks
Sign up on your next visit.
Good

$14.95 + Tax

Better

$24.95 + Tax

Wash
Wax
Clear Coat
Undercarriage
Rocker Blasters
Spot Free Rinse

Best

$29.95 + Tax

Wash
Wax
Clear Coat
Undercarriage
Rocker Blasters
Spot Free Rinse
Triple Foam
Premium Clear Coat
Lava Bath
Dry'N Shine
Our
Locations
Visit us at both locations
OPEN 7 Days a WEEK
1381 8th St. S Wisconsin Rapids, WI 54494
3340 Church St. Stevens Point, WI 54481
Contact us
call us at
Wisconsin Rapids 715-423-6230
Stevens Point 715-341-3920
Operation Hours
Monday - Saturday: 8:00 am - 6:00 pm
Sunday: 9:00 am - 5:00 pm